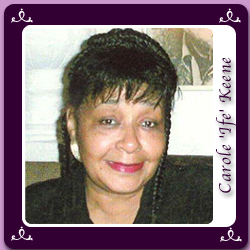 Carole 'Ife' Keene spent over 26 years in the information technology (IT) field, rising to the position of Executive Vice President.



Ife has authored several articles that appeared in "Seasons Greetings", a quarterly newsletter that was widely distributed in the United States and Canada. She has written poems that have been recited at public events and broadcast on radio. Ife has also conducted training and given motivational talks before large audiences and conducted workshops that focused on self-improvement, an underlying theme of Cancer of the Spirit.



Ife, one of three sisters, grew up in Camden NJ, met and married her college sweetheart while attending Howard University. Enjoying 40 years of a happy marriage and three wonderful, bright and industrious children, their motto is: "Never stop honeymooning!"